7 Summer Superfoods for Glowing Skin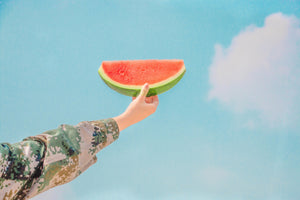 With summer in full swing now, we're seriously feeling the effects of the hot weather on our skin and hair.  Dehydrated skin and dry, brittle hair are certainly 'summer-bummers', especially when you're going for the whole 'beachy waves and sun kissed skin-look'. Make sure to stock up on these seven beauty superfoods to keep your skin and hair glowing all summer long.
Watermelon - A summertime must! Watermelon is over 90% water, therefore it is perfectly hydrating and moisturizing for the hot summer months. The pinkish-red fruit has vitamins C and E, which smoothen skin and keep hair shiny; it also has beta-carotene and lycopene, powerful antioxidants that are anti-aging, tighten skin and prevent wrinkles. Watermelons are rich in the amino acid citrulline that is converted into arginine in our bodies; arginine helps with blood circulation to the scalp and stimulates healthy hair growth. And, to top it off, watermelons are low calorie (46 calories per cup!) so you can indulge your sweet cravings without breaking the calorie bank!
Cucumber - The perfect, crunchy addition to a salad or simply enjoy it as a daytime snack, cucumbers are full of vitamins, minerals and electrolytes. The high water content in cucumbers helps ward off dehydration and combat the heat, and numerous studies have shown that cucumbers can decrease the risks of several types of cancers as well. Because of their silicon and sulfur contents, they also promote healthy and strong hair growth. Even better, cucumbers can be applied topically, as they have a cooling and soothing effect that decreases swelling, irritation and inflammation. To do so, place cucumber slices on eyes to decrease morning puffiness or to alleviate sunburn. And, if you are in need of a spa day but it's not looking like a possibility any time soon, mimic the experience by slicing up a few cucumber slices and chilling them in water. Sip on this 'beauty tonic' all day long and enjoy the calmness and relaxation that comes with it.
Coconut - The coconut craze is still on a roll! While coconut oil is the forerunner of the coconut explosion, we have also been introduced to the likes of coconut chips, coconut milk, coconut yogurt, and coconut water - and for a good reason! Studies on individuals with dry skin show that coconut oil can improve the moisture and lipid content of the skin, and act as an effective moisturizer. Additionally, coconut oil protects against hair damage, as it can block about 20% of the sun's ultraviolet rays and is highly effective against protein loss in hair. Coconut oil can be drizzled over salads, added to hair masks to boost hair strength and shine, or used as a skin moisturizer to promote soft and supple skin. Coconut oil is a true multitasker – use it as a moisturizer, lip balm, makeup remover, hair mask, and even as a topping for your favorite salads and meals! We're coo-coo for coconut! 
Aloe Vera - This succulent plant is used in numerous beauty products because of its many beauty-boosting benefits. The leaves of the plant hold a translucent gel that is made up of around 96% water, some organic compounds, and Vitamins A, B, C and E which contain nourishing and anti-aging qualities. Similarly, aloe vera gel contains two hormones that provide wound healing and anti-inflammatory properties that reduce skin inflammation. One of the hormones, gibberellin, promotes the growth of new cells, allowing the skin to heal quickly and naturally with minimal scarring. When it comes to hair, aloe vera contains enzymes that repair dead skin cells on the scalp, promote hair growth, prevent itching on the scalp, reduce dandruff and condition dull hair! To reap the benefits, you can buy a raw aloe vera leaf and then cut away at the ends to reveal the clear gel in between –rub the gel on skin and leave it on overnight. If you like to try new drinks then pick up an aloe vera juice for an interestingly new, but healthy flavor. Talk about a one-two punch!
Avocado - The age old debate: Is it a vegetable or a fruit? Hint: it's a fruit unlike other fruits because of its high (healthy) fat content. The polyunsaturated fats and monosaturated fats that make up avocados protect our skin from sun damage and keep it guarded from premature wrinkles. Vitamins C and E keep our skin glowing, while Vitamin B (and Vitamin E) work at the cellular level to protect and strengthen hair. Avocados prevent hair loss and promote hair growth as they act as a moisturizer for dry or damaged hair (thank you!). Since avocados are high in vitamins B and E – the vitamins that strengthen and protect hair - you can make avocado hair masks or use them as a deep-conditioner. If you have any leftover unused avocado chunks from the hair mask, pop that into a salad; avocados contain good-for-you fats that keep you fuller longer and add a sweetly satisfying flavor to any meal.
White Tea - A beauty elixir in its own right, white tea delivers a super heaping dose of health properties with each delicious cup. Having the highest level of antioxidants of all teas from the Camellia Sinensis plant, white tea is also rich in a form of antioxidant called catechins. Studies have shown that after topical application of white tea, the skin's immune function was restored and the DNA harm caused by sunlight exposure was greatly reduced. Other studies have highlighted white tea's abilities to reduce the growth of cancer cells, reverse the signs of aging, strengthen teeth and bones, and even reduce blood sugar and diabetes! To reap the beauty benefits in your life, enjoy a cup of BIG T NYC's Tell-Tale Glow White Tea hot or cold brewed! Because Tell-Tale Glow is loaded with superfruits (zante currants + goji berries + elderberries), you get two forms of antioxidants - one from the white tea and one from the super fruits, making it an extra potent beauty beverage for a radiant, summertime glow!
Dark Chocolate - Oh thank goodness this is on the list, right?! In several studies, dark chocolate with over 70% cocoa content (so not the Twix or Snickers bar we were all secretly hoping for) has shown to reduce stress hormones, thereby lessening collagen breakdown in the skin and leading to fewer wrinkles. Even better, dark chocolate stimulates endorphins, which are chemicals that bring on feelings of pleasure; and, it also contains the chemical serotonin, known as a potent antidepressant. Moreover, dark chocolate contains flavonols which protect against sun damage, increase blood flow to skin, and increase skin density and hydration. Dark chocolate is high in copper, zinc, iron, and B-complex vitamins which help promote healthy hair growth and stronger hair follicles. Remember, quality organic chocolate with over 70% cocoa content is key to enjoy all these wonderful (and tasty!) benefits.
Incorporating these beauty super foods into your day is a cinch and here's how! The perfect lunchtime beauty salad will contain loads of veggies, but most importantly, will feature cucumbers, avocados and a drizzle of coconut oil to keep you satiated and satisfied. Follow the salad up with some chilled watermelon and a square of dark chocolate to satisfy your sweet tooth and keep your energy going throughout the day. At home, enjoy a nice satisfying evening with some white tea and an aloe vera skin mask to relax and unwind. The best part? These superfoods are all delicious and have many alternative uses in your life! No wonder they're called superfoods, huh?
Leave a comment
Comments will be approved before showing up.